Features :
Automatic hands free soft open & close lid
Dynamic white light display for simple interface
Lock in odors with plastic sealing ring
Soft, ergonomic, and convenient to carry
Fix plastic bag over liner ring, removable for easy clean up
Soft close lid
Space saving vertical design
CARE, USE & ACCESSORIES
– Recommended use of EKO bin liners.
– Also suitable for use with any standard size bin liners or bags due to the bag fixer keeping all bags in place.
– External surfaces: Wipe clean with a damp cloth and then dry with a soft, dry cloth. Do not use abrasive cloths or strong chemical cleaners.
– Buckets: Remove from unit and clean with hot, soapy water. Wipe dry before replacing back into the unit.
– Odours: To eliminate any unwanted odours we recommend using EKO odour filters and/or EKO perfume capsules.
EKO Accessories Guide
Custom fit like a match made in heaven.
Maximize the functionality of our products by pairing them with custom fit liners, batteries, and odour filters.
Certain Products
Custom Fit EKO Bin Liners and odour filters available.
Bin Liners Size Guide


Using the built-in deodorizer compartment
– Compartments larger than 8x8x0.8cm are compatible with EKO Charcoal Odour Filters or perfume capsules.
– Compartments smaller than 8x8x0.8cm are compatible only with EKO perfume capsules.

Using the EKO Grancy Perfume Capsule Holder:
Compatible with EKO perfume capsules.
*Deodorizing accessories (capsule holder, perfume capsules, charcoal odour filter) sold separately.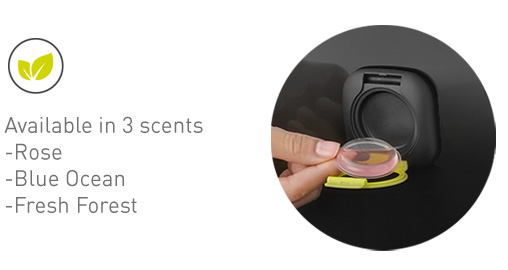 Certain products feature built-in deodorizer compartments. For products that do not, a separate EKO Grancy Perfume Capsule Holder
may be purchased and attached to the product.
*Graphics for illustrative purpose only.